Net
Handy and efficient alternative to Netty, Apache Mina, and other similar solutions for high performance networking. A tiny abstraction layer on top of Eventloop and Java NIO Adapters for AsyncTcpSocket along with AsyncUdpSocket.
Features
Support of Promises for read and write operations
Compatibility with CSP ChannelSupplier and ChannelConsumer. AsyncTcpSocket can work as a CSP channel with built-in back pressure propagation, and can be plugged into CSP/Datastream pipeline with all its features (like buffering, compression, serialization/deserialization, data transformations, data filtering, reducing, etc.)
Extensively optimized and has almost no performance overhead, uses ByteBufPool widely
The AbstractServer class serves as a foundation for building Eventloop-aware TCP servers (HTTP servers, RPC servers, TCP file services, etc.):
Ready-to-use PrimaryServer implementation which works in primary Eventloops as a balancer. It takes external "accept" requests and redistributes them to the WorkerServers that will then execute the actual "accept" requests in their corresponding worker Eventloop threads.
Examples
Note: To run the examples, you need to clone ActiveJ from GitHub:
$ git clone https://github.com/activej/activej
Then import it as a Maven project. Check out tag v4.3. Before running the examples, build the project.
These examples are located at activej -> examples-> core -> net.
Ping-Pong Socket Connection
In this example we are using an implementation of AbstractServer - SimpleServer which receives a message and sends a response (PONG). We will also use AsyncTcpSocketNio to send 3 request messages (PING).
CSP TCP Client
A simple TCP console client which connects to TCP server:
It sends characters, receives some data back through CSP channel, parses it and then prints out to console.
CSP TCP Server
Simple TCP echo server which runs in an eventloop:
This server listens for connections and when client connects, it parses its message and sends it back as CSP channel via socket.
Datastream TCP Client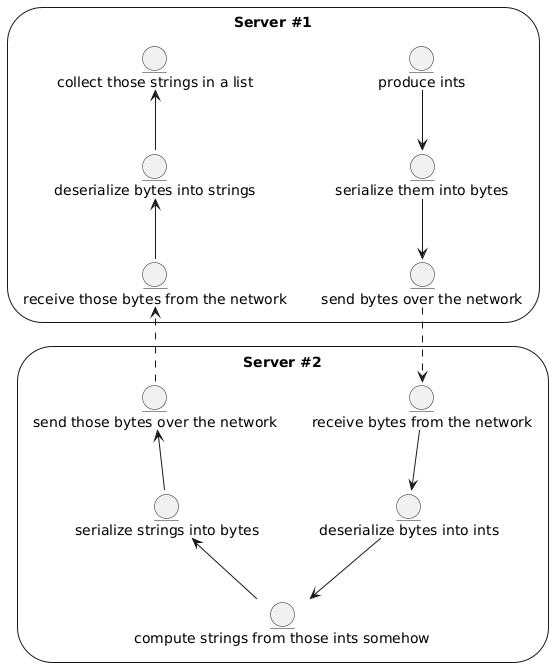 This image illustrates communication and transformations between two Datastream servers. Datastream TCP client represents Server#1:
Datastream TCP Server
This server represents Server#2 from the illustration above: